2007 queer family cooperation with Isabella Gresser und Spinnboden e.V. Berlin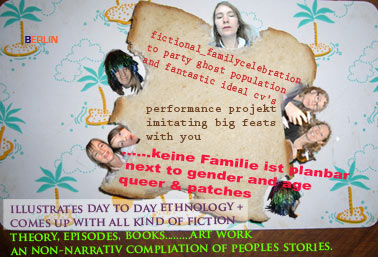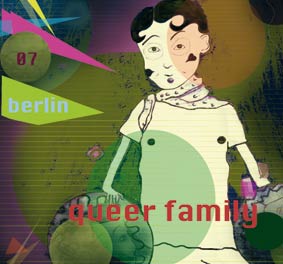 2007 Queer family, Buch & Video Workshops mit Isabella Gresser, Kopenhagen, Berlin, queere Familien, Jugendliche und Kinder sind eingeladen Kollagen und Texte zum Thema queere Familienportraits -geschichten und -strategien zu erarbeiten. Was kann Familie sein, wie sieht sie aus? Zum Weiterdenken und Bebildern von fiktiven wie realen Familiengeschichten wird Arbeitsmaterial gestellt. Eigenes Bild- und Textmaterial in Form von einfachen Kopien (wie Familienfotos, Kinderbüchern, Bildmaterial aus Illustrierten, Artikel, Songtexte, Prosa & Lyrik) wird von den Teilnehmer_innen mitgebracht.
Queer-Family Workshop: how does your rainbow family look like? We will illustrate day to day ethnologyas well as come up with all kind of fiction wich we mix up in short stories, episodes, lyrics......... an non-narrativ compliation with queer family stories. Within the picture line we use photography, drawings, ready mades and found footage of all genre and eras.Therefore the participants may bring anything, they think is suitable (stories, songs, press articles, photos, drawings, films/video, games, flash, graphics, characters) And we edit together this smart collection of rainbow family business.